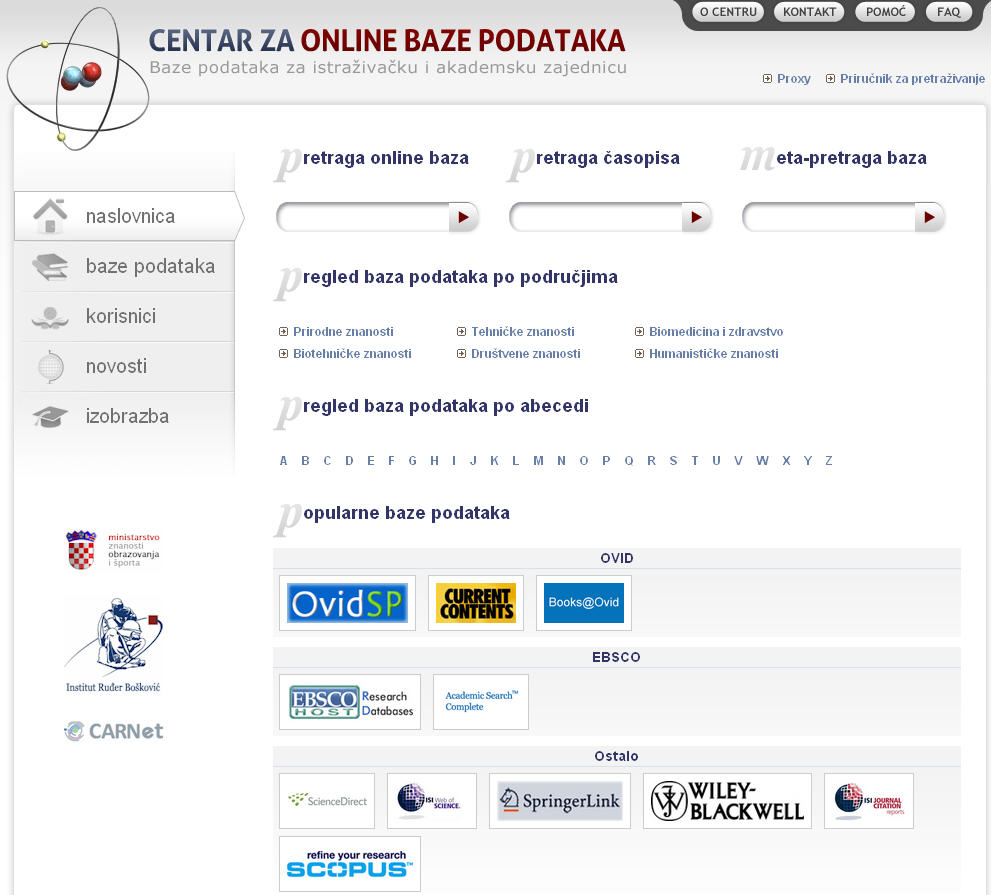 The main task of the Center is providing access to major international databases and to e-journals. Center mediates between Ministry of science, education and sports as financier and academic and research community as users, trying to ensure that the acquired databases and collection of online journals are used effectively and that researchers, teachers and students have access to the information they needed in their work. Center also provides access to a range of databases that are in free access
HISTORY
Center for online databases began its work n 1995. Rudjer Boskovic Institute Library had plenty of experience with online version of Current contents database, so Ministry of science, education and sports authorize Library to provide accces to CC and to other important databases for wider academic community. Center is focused on ensuring access to databases, maintain web sites, communication with the libraries, users and publishers and also on education.
ACCESS TO DATABASES
For most database access is possible from all scientific and academic institutions in The Republic of Croatia. Access is also possible throuhg various internet provider's if they have contract with the Croatian Academic and Research Network. In the same way it is possible to use wireless network access. For details on access to databases there are the FAQ pages of the Centre.
DATABASES AND COLLECTIONS OF E-JOURNALS
Database which can be accessed through the Centre for online databases are the following
ScienceDirect (Elsevier) - collection of more than 2000 e-journals;
Scopus (Elsevier) - citation database, which includes about 18.000 journals of more than 4.000 different publishers;
EBSCOHost (EBSCO) - includes databases such as Academic Search Complete, Business Source Complete, CINAHL etc.;
Ovid - through the Ovid interface users can use databases such as Current Contents (9.000 journals from all scientific fields), Medline, INSPEC, Agricola, EBM Evidence Based Medicine, PsycInfo, ERIC and 40 e-books in the field of medicine
Subscription is not renewed for database:
Emerald Insight - about 170 journals in the field social sciences;
Springer Link - about 500 Springer Verlag journals ;
Wiley journals - about 2000 Wiley & Son journals;
Blackwell journals - about 800 Blackwell journals;
Oxford University Press - about 200 journals;
Cambridge University Press - about 200 journals;
EI Village - database in the field of engineering: Compendex and CRC ENGnetBASE;
HeinOnline - about 500 journals with full text in the field of law;
Web of Science - interdisciplinary ThomsonReuters's citation databases which includes about 12.000 journals (Science Citation Index Expanded, Social Science Citation Index, Arts and Humanities Citation Index);
Journal Citation Reports – database of journals with their impact factors (IF);
MathSciNet (American Mathematical Society) - literature in mathematics;
Lippincot - about 100 journals in the field of biomedicine
Access to old data is provided for some of these databases and for some databases we have lost access completely.